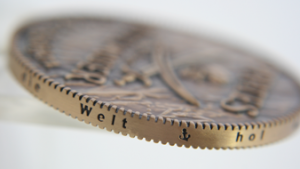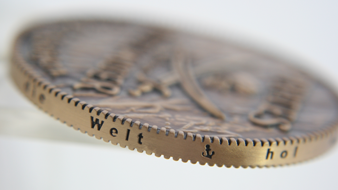 Emboss coins – individually according to your ideas
Medals (hereinafter called called coins, see disclaimer) with an embossing have been valid for thousands of years not only as a means of payment, but also as an exquisite way to commemorate persons and events. Nowadays it is open to private and commercial parties to get the exclusive coins and medals embossed and present them as an extraordinary gift. The individually embossed coins are the perfect choice for the individual embossing for a wedding or child birthday and for well-deserved employees of your enterprise / company or association. No limits of creativity are set for the coins embossing, so that individually selected themes / motives, lettering and graphics can be decorated on the obverse or reverse of a coin in a unique way.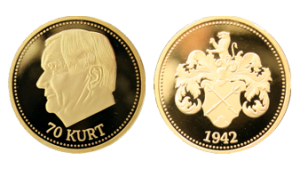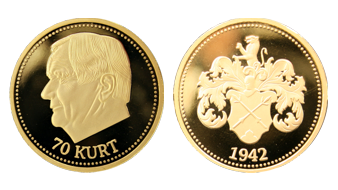 Emboss coins – affordable for everyone
Although a self embossed coin leaves a sophisticated and elegant impression, their stamping / embossing must comply with the available budget. In addition to coins made of gold or silver, an inexpensive embossing of coins from nickel, copper or even PVC is possible which assures a very elegant appearance. The coin embossing is thus equally affordable for private occasions or as a small attention for an experienced numismatist and for large companies and advertising agencies who want to honour business partners and employees. In addition to the stamping / embossing from the front and back, individual edge design as well as colouration of the coins is possible.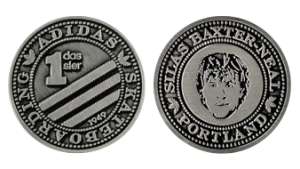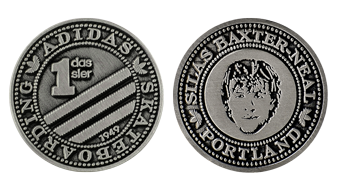 Embossing the coins – a unique and creative gift idea
We stand alongside you as an experienced partner and advisor for the design and embossing of your own personalised coins. With our specialization on the coins embossing in the Internet, we offer the appropriate 2D or 3D embossing by diverse design and material variants and options for every design and price. The coin embossing is completely possible online from simple steel to 24-karat gold according to your own personal requirements, and we advise you comprehensively on request before the embossing and show alternatives. Our free graphics services helps you to revise again the provided motives before the coins embossing. The coins are always exceptional design objects from the Medal of honour on the Challenge Coin up to very personal gift.

Disclaimer: Our products on this page are known as "Coins" in order to comply with general linguistic usage, . It should be expressly pointed out that it concerns, however, individually embossed medals and no current or former means of payment / currency.