What are challenge coins and the different types of custom coins?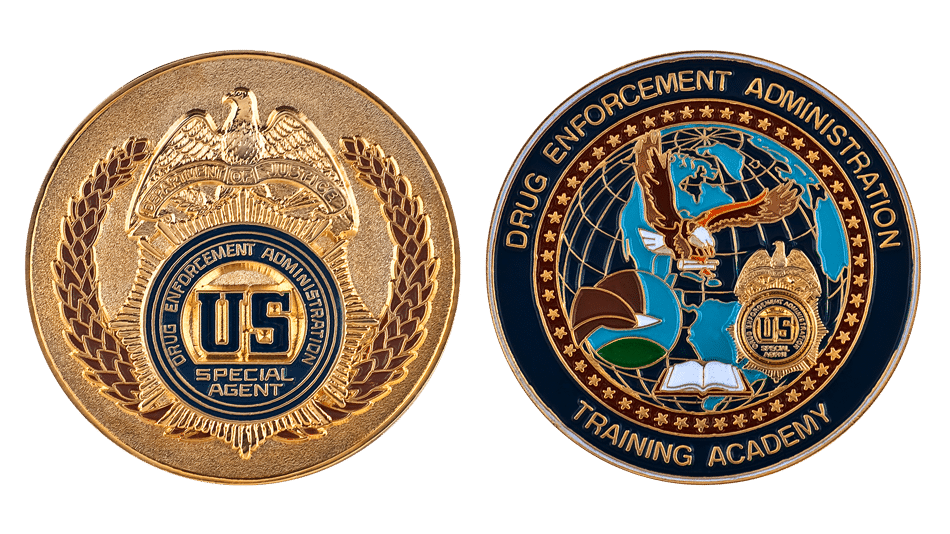 Challenge coins are not the only custom coin on the market, but just what is a challenge coin, and who's entitled to one? Read on to find out!
While custom challenge coins and custom commemorative coins may sound similar, did you know there is a crucial difference between them? With so many different types of custom coins available, it can be difficult to know what they all mean.
If you want to understand what the different kinds of custom-made coin represent, read on. This article will answer just what is a challenge coin, and explain the vast variety of commemorative custom coins. So, if you ever want to create your own custom coin, you'll know exactly where to start!
What is a Challenge Coin?
Originating in the military, challenge coins are small, embossed coins, made from various different metals. Historically, they've been presented to members of the special forces to indicate affiliation to a specific division, or to commemorate acts of valour.
Consequently, challenge coins distributed amongst members of a squadron become treasured keepsakes; tokens of comradery, and integrity. The significance of such coins is, therefore, for many service personnel simply priceless.
Gradually, the invaluable, symbolic nature of the challenge coin caught the attention of the American government. Since Bill Clinton sat in the White House, challenge coins have typically been used by the different acting presidents to honour U.S. military personnel.
Today, however, challenge coins are also awarded by a vast array of different rescue and service forces, including m embers of law enforcement, firefighters, and government agencies.
For example, a t CoinsForAnything, we've had the privilege of honouring the following with our custom challenge coins: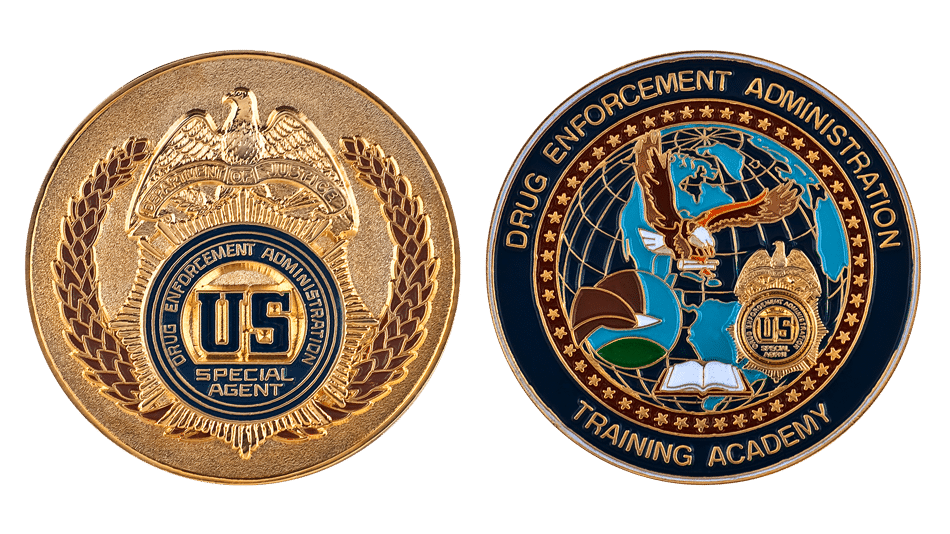 The Special Agents of the US Drug Enforcement Administration
The First Responders of the town of Cary Fire Department
The Installations and Mission Support for the Air Force Global Strike Command
What is the Purpose of a Challenge Coin?
In general, the purpose of a challenge coin is to commemorate specific missions, deployments, and events of a military or first responder unit. They act as proof of membership to a particular group, emblems of outstanding performance, or a means of paying tribute to a particular event.
Above all, however, they are symbols of recognition for the great acts of service of our everyday heroes.
Custom Challenge Coin Designs
In terms of design, challenge coins are usually engraved with an organisation's emblem and are fully customised to reflect its values. They frequently include the name of the organisation in addition to a slogan or motto. Minted in anything from 24k gold, to .999 silver, brass, copper, bronze, and nickel, challenge coins are as varied as the associations they represent.
Further, as they become such precious mementos, challenge coins are often presented on designated coin stands, or they are framed and hung up for all to see. They become symbols of pride and, as such, deserve to be appropriately displayed.
What are Custom Commemorative Coins?
Custom commemorative coins are similar to challenge coins. However, instead of honouring acts of service by the military or first responders, they memorialise special events, milestones, and achievements of organisational members more broadly. Consequently, institutions such as universities, museums, non-profits, and business organisations all frequently use custom coins to pay homage to their associates.
Let's take a closer look at the different types of commemorative custom coins.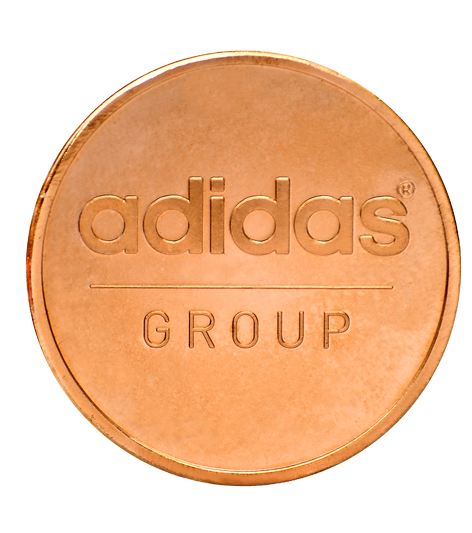 Corporate Custom Coins for Companies
Companies decide to mint custom coins for numerous reasons—and it's not as expensive or as complicated as you might think. Thanks to using sheet metal, or PVC, as the base material, even businesses operating on a tight budget can produce an impressive line of their own coins.
Yet, on the other end of the scale, Fortune 100 companies with more resources may choose to mint their custom coins in a more luxurious 24k gold or .999 silver.
So, why do companies decide to mint their own custom coins? Here are a few examples of how
Corporate custom coins have been used by businesses of all sizes, from budding new start-ups to international conglomerates: Corporate custom coins can be used as a unique replacement for the standard paper-based business card
Similar to challenge coins, corporate coins can be used to honour the outstanding effort of a company's employees
They can be used to commemorate significant corporate milestones and anniversaries
If the business is service-facing, custom coins can be created and used as loyalty tokens to entitle repeat customers to discounts and additional benefits
Custom Coins for Universities and Colleges
Universities and colleges frequently mint their own custom coins to celebrate the achievements of their students, alumni, and the university body as a whole. As personalised coins are such unique and poignant possessions, they encourage the recipient to reflect on their academic accomplishments which reinforces a sense of pride and self-belief.
Custom coins are, therefore, the perfect memento and source of inspiration for alumni, current students, professors, visiting professors, honorary graduates, and staff.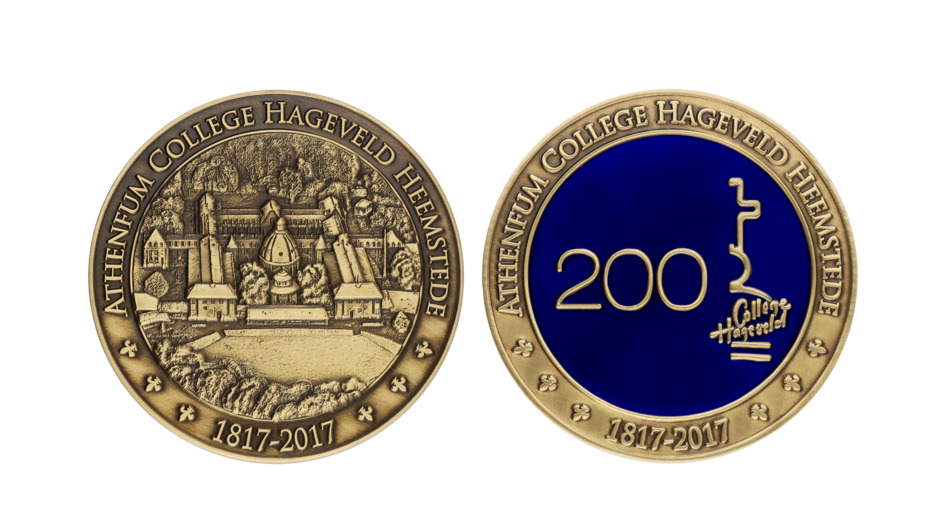 These are presented to college members to commemorate the stages of the academic journey—from the lecture hall and beyond. Here are some ways in which personalised coins have been used in a college setting:
As graduation coins to celebrate students finishing college
To memorialise special events in the college calendar such as historical anniversaries or significant new developments
Custom college coins have been presented to freshmen at the beginning of their studies to commemorate their commitment to their college and future
Such coins can also be awarded to the outstanding individuals who earn honorary college degrees or to pay homage to retiring professors
Custom Sports Challenge Coins for Athletes
Just as challenge coins celebrate the comradery of first responders and military personnel, custom commemorative coins are often used to champion the fellowship of a sports team. As it's not always the winning but the taking part that counts, custom coins can be used to celebrate both athletic success and also participation in a particular sporting event.
As a result, custom sports coins are a unique and memorable keepsake that last long after an athlete has hung up their trainers for good. They can be passed on to generation after generation, perhaps even encouraging grandchildren to continue where grandpa or grandma left off on the sports field!
Custom sports coins can be presented to individual athletes, entire teams, fans, and sporting achievements and events. Here are some of the most common reasons custom sports coins are minted:
As medals for the victors of a sporting competition
As keepsakes for all participants in a sporting tournament or match
As mementos for the fans of a particular sporting event
As unique, personalised flipping coins used by the referee to decide which team begins a game with the initial advantage, as demonstrated at the beginning of the Super Bowl each year
How to Create Custom Challenge Coins
Now that you've got a good idea of the different types of custom coin you could create, it's time to take the next step. Here at CoinsForAnything, we make that simple. With all of our artwork, sample coins, and quotes being completely free, we prioritise making your custom coin experience effortless.
All you have to do is upload the image you'd like to appear on your coin, choose from our selection of materials, borders, and finishes, and add any additional text elements. Our team of seasoned experts will then contact you to discuss the scope of your order and to help finalise your design before going into production.
To get a better idea of our proficiency and experience, we suggest reading some of our customer stories:
Regardless of your individual requirements, we take great pride in our work and are confident we can create the perfect custom coin to fit your needs. Simply head over to our coin configurator to start designing your customised coin today.