Premium Custom-Minted Coins for NATO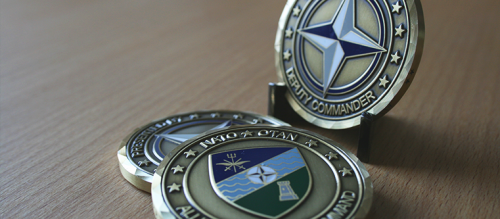 The Army and Civil Service officers deserve only the greatest rewards. Mark the best ones of us with high-quality custom-minted coins with hard enamel colouring.
The maintenance of order and democratic norms by NATO (The North Atlantic Treaty Organization) is a responsible and demanding task. Honouring its officers with custom-minted coins is no less meaningful. To recognise the service of the distinguished personnel, the team of CoinsForAnything was asked to mint personalised custom-minted coins for the further formal awarding ceremony. To craft NATO custom-minted coins was an interesting yet very responsible task to accomplish. The work these officers do is only worthy of the highest quality awards and we have tried to ensure this by minting hard enamel coins with a thoughtful customised design.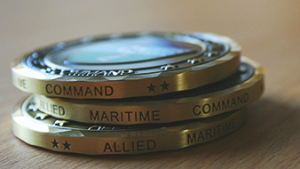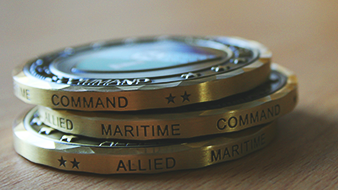 We have approached the execution of the order with all the responsibility and professionalism peculiar to us. Custom-minted coins are a frequent choice for award ceremonies. Our company knows it well because this is not the first time, we have stamped custom-minted coins for military and civil servants. You are free to check the examples of hard enamel coins in our Gallery.
Hard Enamel Colouring on Customised Coins
Each of our custom-minted coins' projects is a deeply thought-out and highly creative process. We always work hand in hand with our customers to give them custom-minted coins with a truly personalised design. In the case discussed, our clients from NATO chose their custom-minted coins to have a bronze core and be coated with hard enamel. To underline the exclusivity of the hard enamel coins, we applied a sophisticated antique finish. The front and back of the custom-minted coins proudly displayed the distinctive logos of the various NATO units made of hard enamel. For the emblems' appearance, a nice combination of blue, green, and white tints was selected. Together with inscription and stars embossed, a triangular border of the custom-minted coins completed the image and emphasised the individualised design. CoinsForAnything was more than happy to craft hard enamel coins for such respected customers.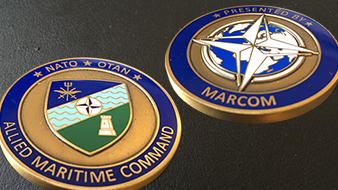 Do you need the highest quality custom-minted coins?
CoinsForAnything has a perfect tool for you! Our Coin Configurator has the functionality to craft the first sketch of your custom-minted coins. Using this handy instrument, your custom-minted coins are more than easy to create.
Disclaimer: Our products on this page are known as "Coins" in order to comply with general linguistic usage. It should be expressly pointed out that it concerns, however, individually embossed medals and no current or former means of payment/currency.