Personalised Wedding Coins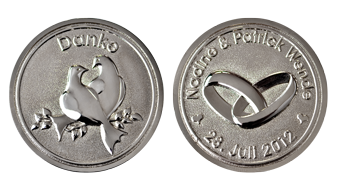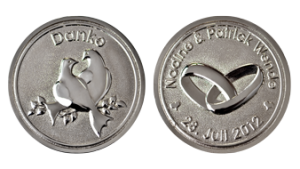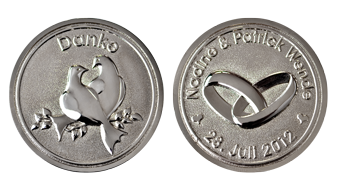 Wedding coins: minted memories of a special day. The wedding is one of the most beautiful days for any couple, a true life event that is an affair to remember forever – and not just for the bride and groom. Commemorative personalised wedding coins are the perfect way for family, friends, or even the newlyweds themselves to give a unique souvenir that will last a lifetime. As a leading provider of truly customizable medals and coins, CoinsForAnything is fully equipped to provide any idea, material, variant, or design option you can imagine to make this special souvenir as unique as your special day. Whether it is a classy PVC token to hand out to guests at the reception, or a precious golden medallion to present to the married couple as they leave the church, wedding coins are durable, elegant keepsakes of this most momentous family event.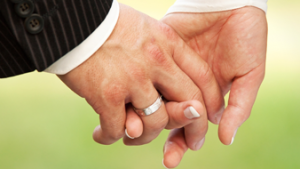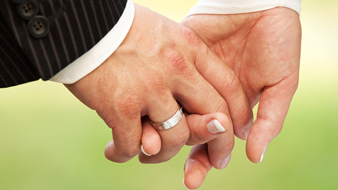 Make your wedding coins as unique as the happy couple
Our easy, intuitive online coin configuration app makes it simple to create your special, one-of-a-kind wedding coins without sacrificing flexibility. Choose from budget-friendly materials like stainless steel or the fine glow of such precious materials as gold and silver. Apply a wide range of finishes, edgings, and details. Select one of our pre-made designs and add your own message, or upload a unique graphic, picture, or design for your wedding coins at no extra cost. Add the happy couple's smiling faces to give warm memories to guests, or slip in a wacky in-joke for more informal couples. You can even add colors to your design to really make your personalised wedding coins stand out as detailed keepsakes that will be cherished for decades to come. Visit our showroom for many examples of real designs created by real customers. Whether it's something romantic, something fun, or something elegant; whether it's a bulk order, a small batch, or an intimate single piece; CoinsForAnything has the tools, the professionalism, and the precision to deliver your wedding coins on time, on demand, and on budget.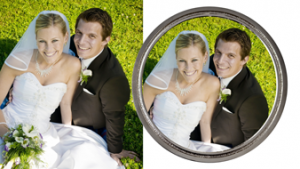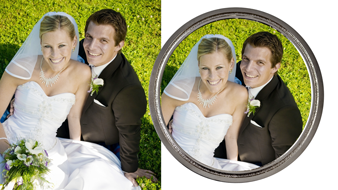 Celebrate a marriage with personalised wedding coins: Keepsakes that are truly special
Personalised wedding coins are unique, imperishable, and unusual keepsakes for the special day of either you or someone you love. Give your guests or the happy couple a tangible gesture of your love with our versatile, customisable wedding coins. Place an order today, and have the finished product in time for the special day!
To start making your personalised wedding coins today, head over to our
Coin Configurator
. Here you can create a first draft of how you'd like your custom coin to look before our team of design experts then help you craft them perfectly.
Disclaimer: Our products on this page are known as "Coins" in order to comply with general linguistic usage. It should be expressly pointed out that it concerns, however, individually embossed medals and no current or former means of payment / currency.