'Hunter Killer' and the great power of a custom challenge coin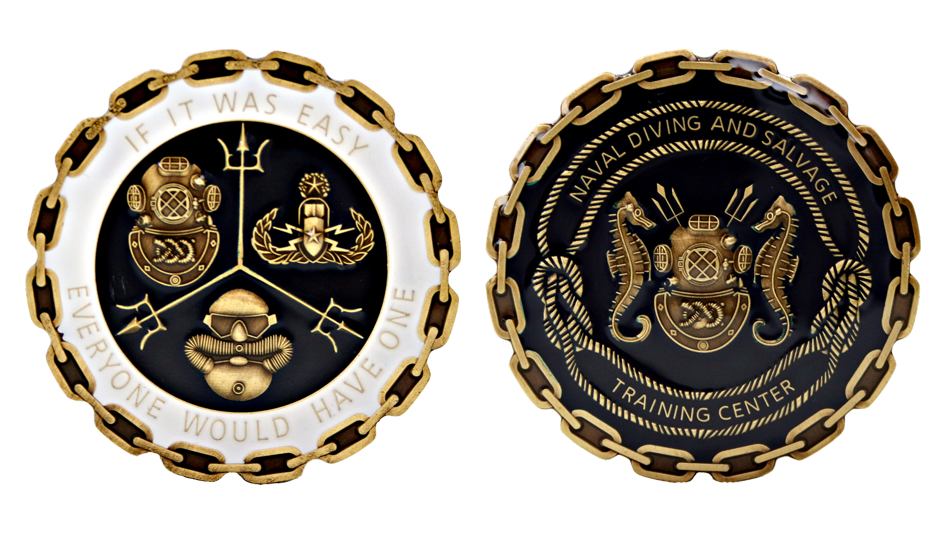 CoinsForAnything is your reliable, experienced and certified partner for the high quality realisation of Your custom challenge coin project ideas.
For our brave sailors, the bonds made out at sea are indestructible. When faced with extraordinary life-threatening challenges, loyalty means everything. To honor this unwavering allegiance, many navy ships mint their own unique commemorative, or "challenge," coins. These coins become precious keepsakes for their crew members, acting as tokens of affiliation, or, as depicted in the 2018 film Hunter Killer, even lucky charms. CoinsForAnything mints custom challenge coins.
What 'Hunter Killer' tells us about challenge coins
An action-thriller following a group of Navy Seals on a mission to save the captured Russian President, Hunter Killer stars Gerard Butler as LT. CMDR Joe Glass. A survivor of an ill-fated naval ship called Wichita, Glass keeps his Wichita challenge coin close to him at all times. For Glass, this custom challenge coin is a talisman. When facing difficult predicaments, he often flips the coin in his hand. It helps him keep his cool when having to make unthinkable sacrifices. The coin is so meaningful for Glass that one of the main songs in the movie's soundtrack is called 'Only Coin I Carry (Glass' Theme).'
Consequently, Hunter Killer perfectly depicts the power a challenge coin can have for our servicemen and women. Not only do they act as a reminder of the alliances made while in service, but they are symbols of survival and endurance—often against incredible odds. Whether on the water or back on land, these commemorative navy coins are a testament to a career dedicated to protecting and serving civilians.
Yet, the tradition of handing out challenge coins to service personnel didn't originate in the Navy. The custom actually began amongst pilots in the Air Force during WWI.
When was the first challenge coin created?
The history of challenge coins is a fascinating one with an enduring legacy. According to legend, the first challenge coins were issued by a wealthy Air Force lieutenant and presented to his squadron at the beginning of WWI. Created in solid bronze, when a member of his squad was shot down across enemy lines, they used their challenge coin as proof of allegiance when crossing back into friendly territory.
So, the original challenge coins were used as a means of protection, in some cases quite literally saving the lives of some young squaddies. From here, they began being issued across all military divisions from the Army and the Navy to the Marines and the Coast Guard. These commemorative coins became symbols of belonging and pride. Sometimes, they were even presented to commemorate exceptional acts of valor. The value of these coins is, therefore, for many members of service, simply priceless.
What does a custom challenge coin look like?
Custom challenge coins are created to best reflect the achievements of the service personnel they are being presented to. While this means they come in many different shapes and sizes, they generally include elements of the following:
– The emblem, shield, or logo of the service division, often plated with colored enamel
– A phrase, motto, or slogan associated with the division
– The specific name or number of a squadron or unit
Although they can be minted in a vast array of different metals, many are created using more precious metals such as 24k gold, .999 silver, or brass so as to pay proper homage to our service heroes.
Custom challenge coins made by CoinsForAnything
At CoinsForAnything we're proud to have created bespoke challenge coins for a wide range of military personnel. Here, we understand the importance of creating the perfect custom coin. So, there are practically no limits with regards to the kind of coins we can produce to celebrate the members of our military. Take a look at some of the stunning custom challenge coins we've made in the past to get an idea of how versatile and striking a well-crafted coin can look.
The Donald Rumsfeld Custom Challenge Coin
The stunning Donald Rumsfeld Secretary of Defense coin was made from Nickel and embossed in a minimal yet striking color palette. It was presented to service personnel operating in the Army, Navy, Marines, and Air Force during Bush Jr's presidency between 2001 and 2006. With the poignant slogan "united in freedom" engraved above the American flag on one side and Donald Rumsfeld's signature beneath the American and the Secretary of Defense flag on the other, it's a truly magnificent and timeless memento.
The BAE Systems Chartered Engineer Custom Challenge Coin
Sometimes, the key to good design is to keep it simple. When we created a challenge coin to honor the maritime services of the BAE Systems Chartered Engineers, we did exactly that. Made from bronze and plated in precious 24K gold, this custom challenge coin boasts a remarkable unicolor finish and minimal text elements (including just the division and the organizational titles). The simplicity of these design features are then expertly offset by the complexity of the engraved images: The HMS Victory on one side and the HMS Elizabeth at sea on the other.
The Naval Diving and Salvage Training Center Custom Challenge Coin 
Slightly different from the above, this challenge coin was presented to those who attended the US naval training center in Florida as opposed to directly acting in service. Although it includes a range of charming elements, it's the coin's breathtaking chainlink edge design that truly elevates it to the next level. Made from bronze and embossed in an elegant navy blue enamel on one side, and a white and navy enamel on the other, this stunning custom challenge coin has certainly been positioned pride of place in the center of many a mantlepiece and trophy cabinet.
Make your perfect challenge coin at CoinsForAnything
Just like when engaged in a military mission, when it comes to creating the perfect challenge coin, precision is key. Our dedicated team of professionals is ready to help you create the perfect coin to honor your unit or the service members in your life. When you choose to create a custom coin with us, you can enjoy the following:
A free design service—our design team will create a custom coin design template for you, completely free of charge
We can provide you with sample coins for a small production fee before you commit to your final design
We offer a wide selection of metals for your custom coin including bronze, .999 silver, and 24K gold
As we don't agree with volume commitments, you have the freedom to mint anything from one million to a single coin
A guaranteed delivery time
Ready to get started? Then head over to our Coin Configurator and get creating your coin design idea. Don't worry if you're not sure how you want your final custom challenge coin to look. Our design team will use your initial design to help you create something truly striking and best of all, utterly timeless.