How Custom Coins are Honoring Covid-19 Key Workers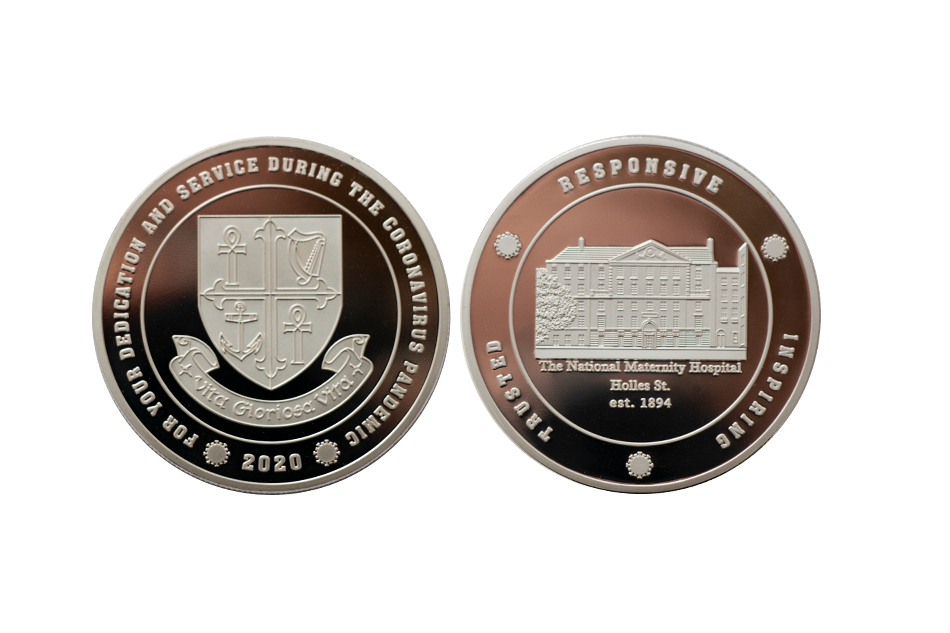 Everyday heroes' efforts at hospitals, laboratories, the army and ambulances are rewarded with honoring commemorative custom coins.
The global impact of the COVID-19 crisis has, and continues to be, truly distressing. With millions losing their lives and a vast majority of countries spending over a year going in and out of lockdown, life as we know it will perhaps never be the same again.
However, in the face of these extraordinarily harrowing conditions, everyday heroes have continued to make great sacrifices to help those in need. It is stories like these which give us hope for the future. It is stories like these that give us hope in mankind.
At CoinsForAnything, we had the great privilege of creating several custom commemorative coins to honor some of the tireless key workers on the pandemic frontlines. As a result, we are now delighted to be able to share some of these stories of hope and custom coins with you.
The Moving Stories Behind Our Commemorative Coins
Our custom coins were presented to a wide-range of hardworking, commendable individuals who made tremendous sacrifices throughout the pandemic.
From staff at a maternity hospital, to soldiers, ambulance service workers, chemists, and ventilator technicians, each custom coin was presented as a token of gratitude and an acknowledgement of a selfless dedication to serve others.
Interested in the moving, real-life stories behind some of our recently minted custom commemorative coins? Then read on.
For Risking Their Lives – Staff at The National Maternity Hospital
That National Maternity Hospital in Dublin awarded each of their staff with a custom commemorative coin to thank them for risking their lives during the pandemic. This impressive medal has a bronze core with .999 fine silver plating, a polished plate finish, and stands at 50mm in diameter.
Symbolically, the hospital's 3rd year BSc Midwifery students were presented with their custom coins as they received their vaccinations against the disease.
The hospital also awarded Marie Culliton, leader of the medical lab, and Grainne O'Dea, senior medical scientist, with their custom coins whilst in the lab, in front of their different pieces of Covid testing equipment.
This was a particularly meaningful gesture as in total, these pieces of equipment had processed a staggering 6814 Covid tests since the worst of the pandemic.
For Honoring the Tireless Work of the Army – The City of Liverpool
In November 2020, 2,000 soldiers from the Army regiment were deployed all over the city of Liverpool to set up and run close to 50 corona testing centres. Since then, Liverpool's virus incidence rating plummeted from 680 cases per 100k people, to under 100.
The city wanted to honor these troops for their part in helping that number to decrease so dramatically and thus, saving many lives.
So, they reached out to us and we helped them craft a stunning bronze coin with a sandblasted finish, using soft enamel on the front in the same colour as the City Council logo. We helped guide them through the design process, eventually deciding on something that represents the heart of Liverpool: The city skyline underneath the iconic liver bird. The coins were then handed out to the soldiers by the mayor of Liverpool. The Deputy mayor, Wendy Simon, then made the following statement:
"We owe the British Army troops an incredible debt of gratitude for their work in setting up and staffing testing centres across the city over the last month.
"We have had so many compliments about their patience, helpfulness and professionalism in supporting people through the process of having a test."
For Getting Those in Need Help, Fast – The Welsh Ambulance Service
The Welsh Ambulance Service presented their staff with this striking silver-plated custom coin to thank them for doing their part in the battle against the virus. The WAS logo was minted in a matte finish on the front side of the coin and boasts a beautiful reflective background in a polished finish.
These coins were presented alongside our popular V19 frames which had a certificate from their director inside to add a more personal touch. The design is similar to the existing coins held by members of staff, but adds a uniquely embossed ring of text around the border in both English and Welsh.
Over the past 20 years, the service has become one of the most clinically advanced in the world, focusing on giving their patients the highest quality of care possible. This was reflected by their service staff going above and beyond during the pandemic in 2020 and 2021.
Attending to a staggering 250,000 emergency calls a year, the service staff worked tirelessly to make sure that both COVID-19 sufferers and individuals in other medical emergencies alike both got the care they needed, fast.
For Always Putting Others First – The Pillbox Chemists
Based in Slough, UK, the Pillbox Chemists are an independent pharmacy group that provide tailored NHS and private services across Berkshire, Hampshire, Middlesex, Northamptonshire and Surrey.
Offering to perform Covid-19 validated tests in patient's homes throughout the pandemic, these 'pharmacy heroes' regularly put themselves at a greater risk by putting other people first.
What's more, throughout the crisis, the pharmacists were on hand to give people advice about the virus while offering them direct delivery of vital supplies such as masks, sanitizer, thermometers, and gloves.
The Pillbox pharmacists were then awarded with this 24K gold plated coin to pay homage to their unwavering dedication to help others throughout this pandemic. The coin has a rather impressively large diameter of 50mm.
This meant that a more personal message could be engraved into the reverse of the coin, increasing its sentimental value. The coins were then gifted alongside a V10 velvet box in the NHS blue colour with the Pillbox Chemists logo printed on top.
Is There an Everyday Hero You'd Like to Honor With a Custom Coin?
Would you also like to pay homage to someone you know with a stunning commemorative coin?
Creating your custom coin with us is simple. Just hop on over to our 'Coin Configurator' to give us an idea of how you want your coin to look. Then, our team of experts will help you craft the perfect custom coin to honor the everyday heroes in your life.