Celebrating Diplomatic Relations with Custom-minted Medals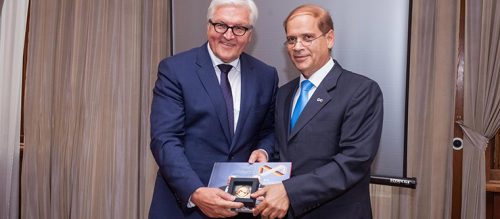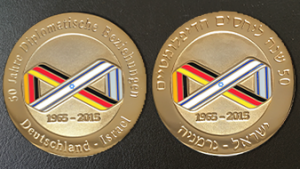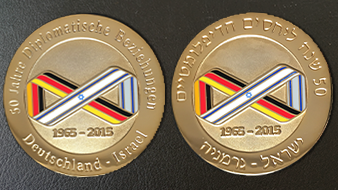 Custom-minted medals to reward a long relationship
In celebration of 50 years of diplomatic relations between Germany and Israel, the Israeli ambassador handed over 50 medals for outstanding achievements produced by CoinsforAnything.co.uk. The first custom-minted medal has been handed over to Germany´s Federal Minister of Foreign Affairs Frank-Walter Steinmeier and the second one to Bild publisher Kai Diekmann.
This kind of anniversary medal cannot only be used for emphasising political relationships but as well to celebrate company-, city- and university anniversaries. This medal shows a long and trustful relationship, deference, and joy.
Material and design of the custom-minted medals
The medal, 50 mm in diameter and 3mm in thickness, consists of bronze with a 24 carat gold plating. The finish shows a wonderful sandblasted background, with polished border and hard enamel colouring. The symbol on the coin points out the emotional attachment the two countries have.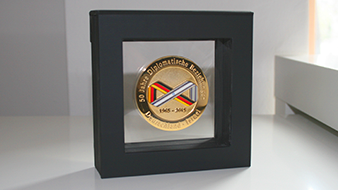 Handover in silicone membrane frames V19
To show the German and Hebrew inscription on front and reverse of this beautiful custom-minted medal we placed it in a frame.
The frame is a great option to place the medal on the desk and remember the event for a long time.
This packaging option is a high quality solution to present your custom made coins and medals and make sure your gift is not disappearing in the drawer.
To start making your own custom-minted medals today, head over to our Coin Configurator. Here you can create a first draft of how you'd like your custom coin to look before our team of design experts then help you craft them perfectly.
Disclaimer: Our products on this page are known as "Coins" in order to comply with general linguistic usage. It should be expressly pointed out that it concerns, however, individually embossed medals and no current or former means of payment / currency.